Vesta by HenryGlass
A furnishing element
Vesta is a walk-in wardrobe that allows the organization of the space flexibly and with maximum efficiency. It combines the modules with an aluminum structure in lead finish and can be matched with all HenryGlass doors and allows to furnish with a calibrated combination of shapes, colours and materials.
The upright can be fixed floor-to-ceiling or floor-to-wall.
The floor-to-ceiling upright is available up to 3100 mm high while the
floor-to-wall upright is up to 2600 mm high.
Greater heights are available on request.
The object of desires
Thanks to the functionality of the HenryGlass doors it will be possible to create your own custom-made wardrobe room replacing the bulky and old wardrobe.
In order to make this dream come true, a space suitable for the walk-in wardrobe is essential, the exact relief of the measurements, a designer who knows how to best advise the various arrangements, paying great attention also to the methods of closing the cabin: sliding doors, hinged doors, glass or wooden walls able to transform the space into a studied and functional environment.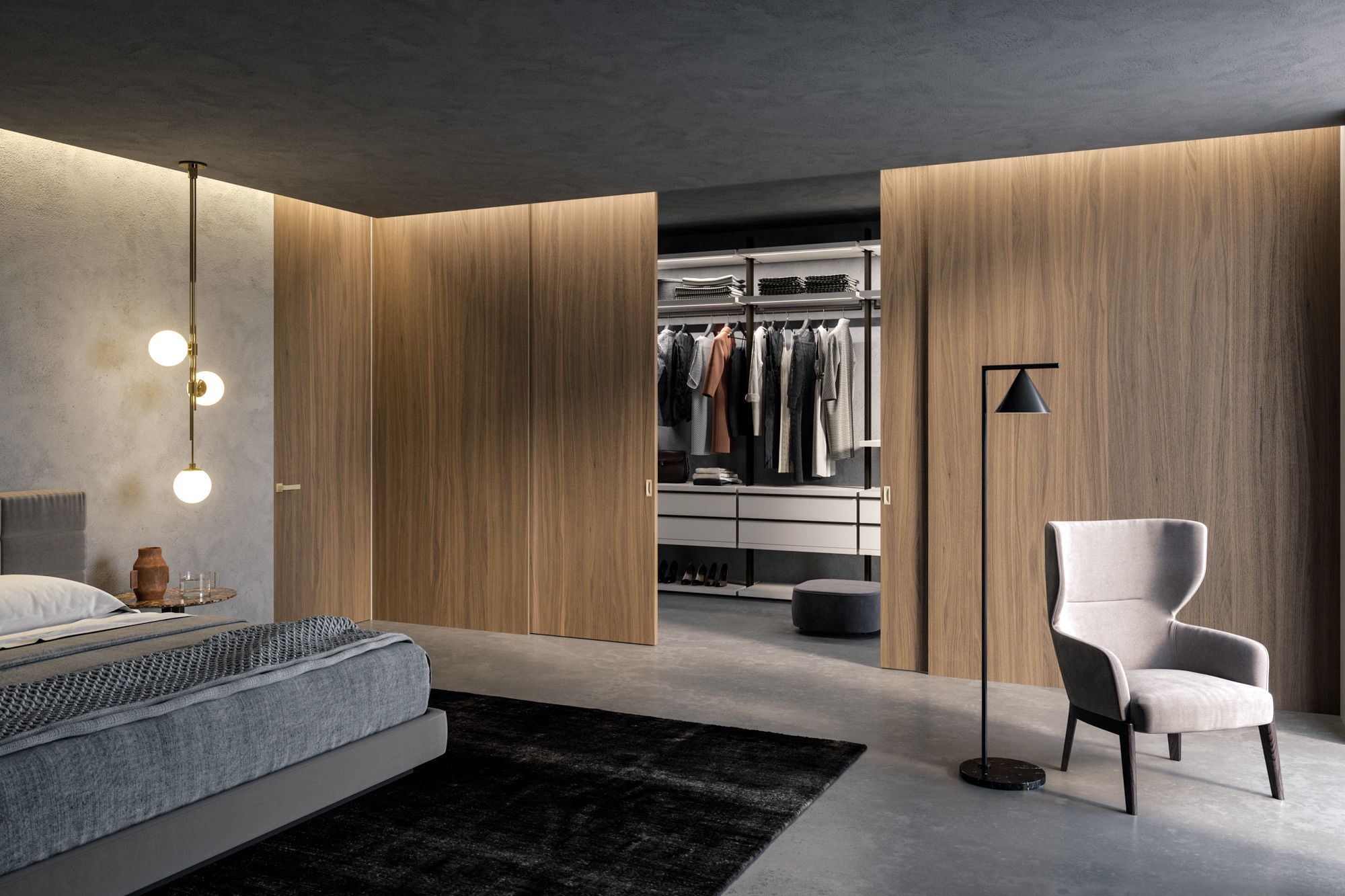 Product features
The structure, characterized by fixed wall or ceiling pillars, can be equipped with shelves, chest of drawers, extractable accessories and LED light.
The uprights represent the most relevant vertical element of the whole system and they allow the free positioning of the gear along their height
As a rule, the measurements required for a walk-in wardrobe start from at least 130 cm deep and 250 cm wide. If the choice falls on a corner arrangement the recommended size is at least 250 cm per side. In height it is always better to abound.
CUSTOMIZATION AND FLEXIBILITY
COMBINED WITH GLASS DOOR SYSTEM
CEILING OR WALL CONNECTIONS
FREE ARRANGEMENT OF ITEMS AND FURNISHING ACCESSORIES
WIDE RANGE OF FINISHES