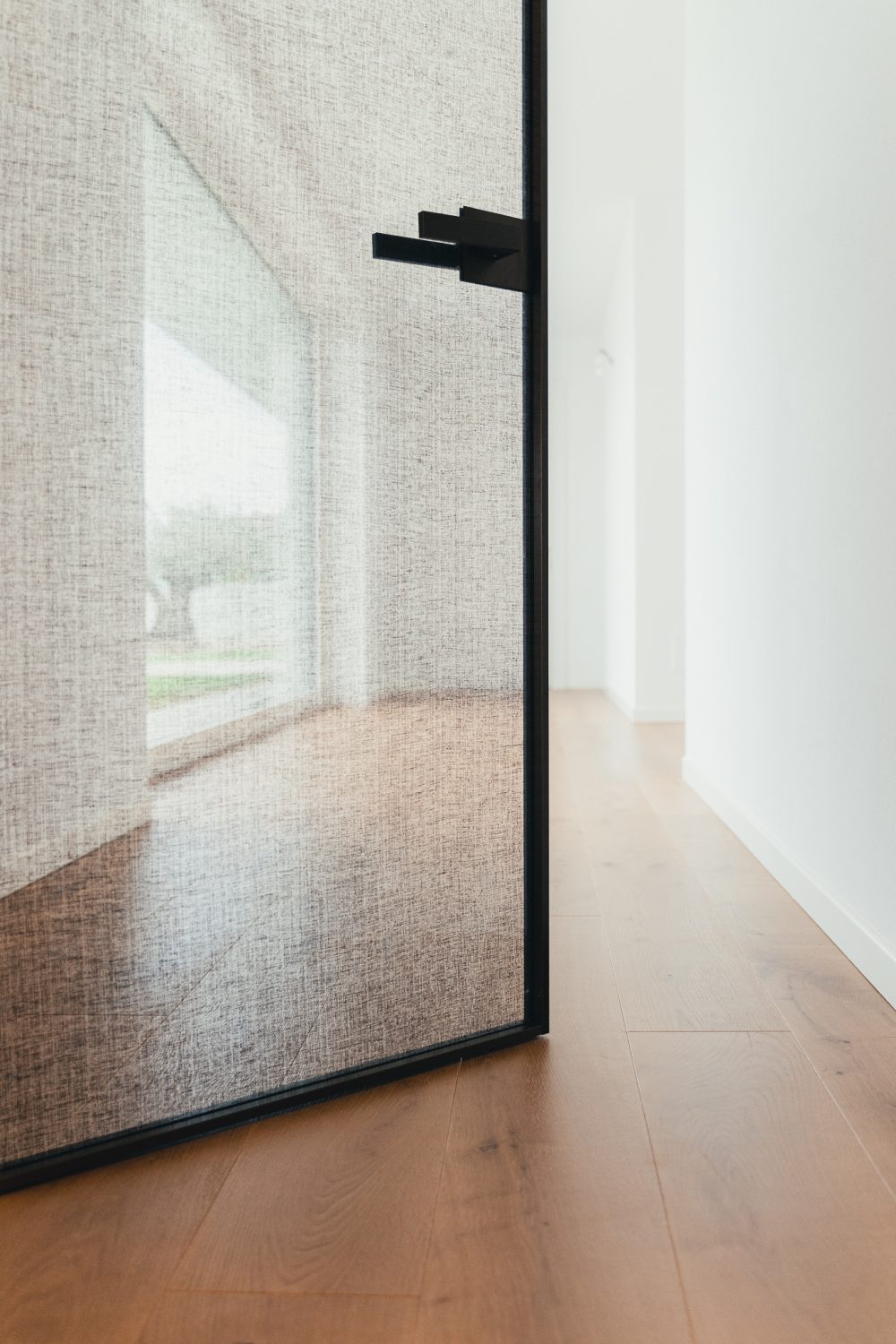 Precious and variable, antique but even modern: the glass is a material that shows and hides.
It changes with the changing of light, it transforms the surronded environment with its luminous reflections and combines itself with shapes, colours and materials.
HenryGlass represents an innovative response to the need to close or delimit spaces: the glass plays with light and transparency, amplifying, expanding and enhancing space. It separates rooms by joining them with light.
HenryGlass boasts an ancient crafts tradition rooted in the culture of Venice and Murano, areas near the company, which has resulted in producing glass from countless technical and mechanical qualities.
HenryGlass can provide certification that the glass was tempered under regulation 12150 and can, at any time, locate the process information documentation, which must be archived for 10 years as required by law. Whether it's tempered monolithic or tempered stratified, Henry glass offers a guarantee of strength and durability unique in the market.
HenryGlass's system for frosting glass surfaces is based on a ceramisation technique that makes it possible to obtain a frosted effect with superior strength and durability compared to the standards on the market, a distinct mix for trying to combine beauty with trust in a full and certified quality.
SOLUTIONS WITH CLEAN LINES
GLASS TEMPERED UNDER REGULATION 12150
STRENGTH AND DURABILITY
WIDE RANGE OF DECORATIONS AND FINISHES
CERAMIC COATING FOR HIGH QUALITY PRODUCTS
The glass quality
of HenryGlass
Glass is a material of antique origins and retains an expressive language that makes it unique.
In modern architecture, glass is omnipresent: transparency, reflections, gloss, durability, strength, ease of sterilisation and perfect eco-compatibility and the ability to recycle an infinite number of times. Thanks to the wide range of colours and finishes, the glass is transformed by conforming to the needs of architects and designers.
The technical and aesthetic in a wonderful balance thanks to the wide range of HenryGlass products. For our company, the concept of safety is absolutely inseparable from the glass product: a glass surface must ensure safety to avoid danger or damage.
The HenryGlass collections, which can possibly be enhanced with decorations, can also be customised, offering a wide choice between clear, frosted, reflective, lacquered or mirror lacquered, to provide custom-made solutions for any context, from the home to a public area, and in working environments and for contract supply.
Safety and durability
Quality, durability and safety are the features that make our products unique. Techniques and special processes ensure the reliability of the durability of the glass.
Henry glass products are provided in:
Heat tempered glass, regarded as safety glass as its mechanical characteristics and in particular its resistances to impact, bending and scratching, are strengthened.
Tempered stratified glass, an exceptional product as, being tempered, the coupled sheets of glass are very durable. Additionally, in case of an accidental fracture, the slab crumbles into small fragments that then remain stuck to the plastic film between the two glass panes.
All processes and transformations on HenryGlass are made at the production plant in Mansuè, to ensure quality and total control of the workpiece.
HenryGlass cleanliness
HenryGlass pays particular attention to maintenance and easy cleaning, values that translate into a very special frosting technique – conducted within the company – which makes frosted HenryGlass glass much easier to clean than the standard frost finished glass on the market. For other types of glass effects, Henry glass uses a method of layering that protects the lacquered or mirrored surfaces, the finishes, the colours, and even the decorations as they are protected within the paired sheets of glass.
A unique style where design meets
the newest cutting edge industrial techniques
HenryGlass was born in 1988 and now stands out as innovative production, attention to detail and a search for basic essentials, for elegant and clean lines.
HenryGlass doors stand out immediately as valuable solutions that integrate perfectly wherever they are placed, becoming the primary architectural feature.
The strong inclination for an aesthetic taste, a keen interest in technology and great attention to the quality of increasingly qualified and specialised labourers, are the cornerstones on which all the production of HenryGlass is developed.
The production, from glass plate to the finished door, takes place entirely inside the plant in Mansuè, an aspect that is anything but secondary and guarantees the excellent quality of the final result; each door is in fact custom-made and is followed step by step throughout its manufacturing process.
There is a special focus on technology, with an engineering department that works tirelessly to study innovative and cutting-edge systems: HenryGlass has to its credit several functional and decoration patents. Great credit to R&D working to impress the customers of HenryGlass with unique designs that transmit the cherished values of the property, as well as strong ties with Italian culture and art.
Innovation and tradition meet in HenryGlass in an amazing location surrounded by unspoilt countryside: the view over the plain of Prà de Gai which can be admired from the windows of the plant and the daylight filtering down naturally from the sloping glass of the big shed, creating a serene and comfortable working environment, ideal for creating a product of excellence.